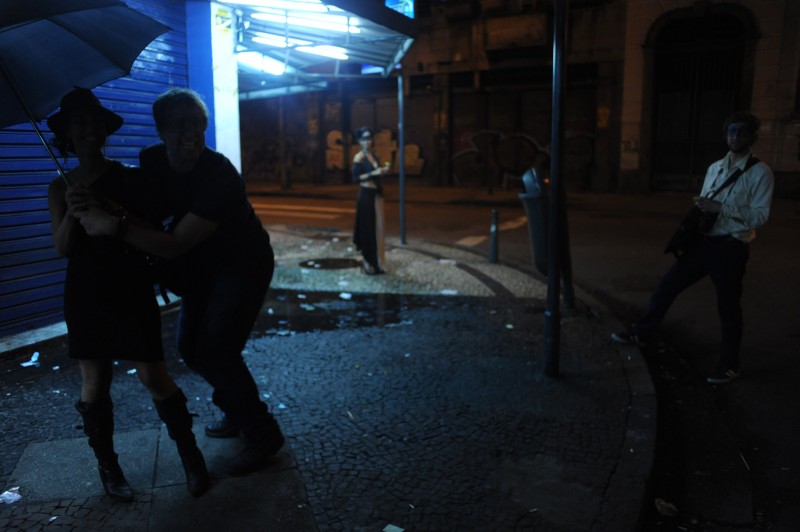 I always tell my workshop students on the first day that my one week workshops actually go on forever…That is, if a student stays in touch with me and continues to produce compelling work , I do stay on as a lifetime mentor…The picture above is proof…Chris Bickford (left) with Burn readers Roberta Tavares and her twin sister neurologist Dr. Renata Tavares (background) in Lapa area of Rio de Janeiro with Lance Rosenfield (right) …Chris and Lance have both survived my New York loft class several years ago and remain close friends…Chris' essay on New Orleans Mardi Gras will show up here on Burn on Monday. Lance, on Burn with Thirst for Grit, has just formed a photographers coop PRIME and several photographers in his coop have been published here like Charlie Mahoney with his essay Troubled Paradise. So my alums are rockin.
I am trying to set a good example for them as well. This week I am in Rio shooting on my own, and will pick up with my NatGeo assignment next week after Carnaval. After all I did DO in a big way Carnaval last year for NatGeo Magazine and for NG television. Thank you NatGeo. So now I am here just taking pictures for myself and possible book/iPad book and hanging with my buddies/students/friends….Hey, the ultimate spring break!! Normally it would not work to have other photographers around while I am doing my thing , but in this case it just flat out rocks..We are laughing ,talking pictures, and shooting like hell as you might well imagine. The competitive spirit works in this case because there is plenty of material to go around. Well, after all, it is a party for heavens sake with the whole world invited…
And of course the obvious. Anyone who really knows me personally will know some of MY best work will come from this week…No doubt about it. I thrive having family and friends around. Always have.
In the Mississippi Blues workshop class I am doing upcoming in April, I will be out shooting with my students as well…i also do this in Oaxaca, Mexico class…Always fun and on subjects where everyone is spread out and not tripping over each other.
Well you may imagine I have way better pics than the one above. Just used this to make a point. mozilla firefox free . Saving the hot sexy totally outrageous ones for later. Make sense? Stay tuned.
-dah-